Welcome to the Cast Edit.
I'm so excited to have a place to share more on this brand, these designers, and the brilliant artists that I love so much with you. The Edit will feature frequent guest editors, styling tips, stories of inspiration and just all around general obsessions of the moment. To kick things off, here's a little bit of my backstory.
my story
I'm a creator at heart, always happiest when I'm making beautiful things. As a kid, I was obsessed with pattern, color, sculptural shapes, and forms of any kind. I was intrigued by the angles and geometry—ironically, the only math class I ever excelled in—of thoughtfully designed objects. It's that fascination that led me to begin my career in graphic design.
I've spent the last 20 years developing beautiful brands and products, but it's this latest venture in fine jewelry that has sparked an entirely new passion within me. I've uncovered a deeper level of creativity and joy than I've ever known. This journey brings so many of my loves together on a new path that both challenges and inspires me every day.
Although the fine jewelry journey is new to me, the fondness is long-lived. My grandfather was a major rockhound and I spent many childhood days surrounded by all matter of shiny things in his gem museum and jewelry shop. I've always admired the shimmer of colorful stones and the weight of solid gold in your hands.
"I'm a creator at heart, always happiest when I'm making beautiful things."
THE GETAWAY RING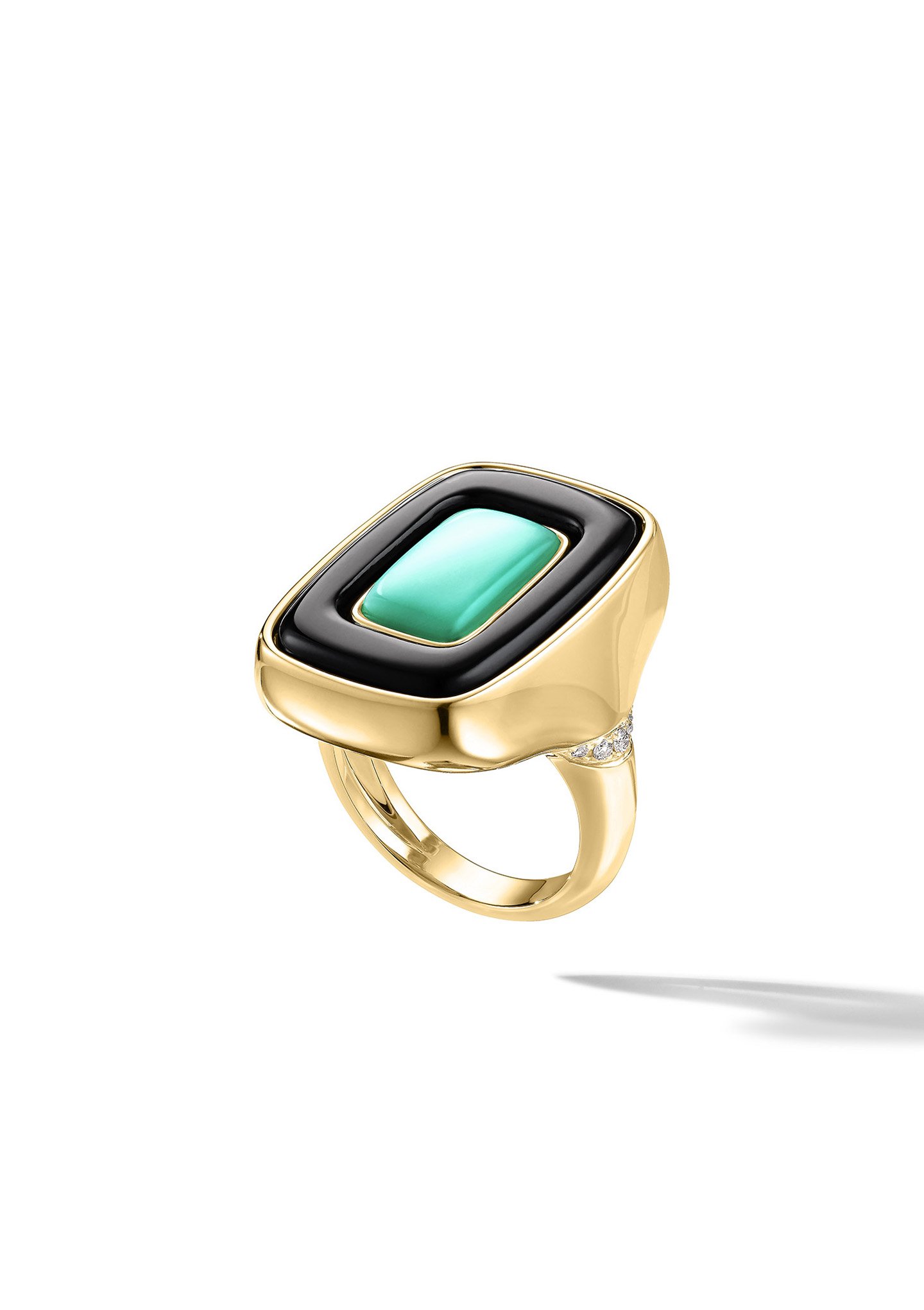 My latest ring obsession. This silhouette elongates the hand in such an elegant way and the minty green of Chrysoprase brings the best mid-century modern feels.
a thing for rings
Even as a teenager, jewelry played a pivotal role in shaping my personal style. I wore a ring on every finger. When I ran out of room I stacked and when I ran out of fingers I moved on to my ears. But rings are truly my thing, and you'll never see me without one. Maybe what I love most about the silhouette is that it's always in my view—allowing me to stare at beautifully designed, shiny objects all day. And I can't think of anything more elegant than a single elongated statement ring on the hand.
More often than not, I'm a jeans and t-shirt girl, which is fitting because there's no better canvas for a piece of jewelry. Beyond decoration, I've always viewed jewelry as a means of self-expression, gravitating toward bold pieces that make a statement. I love pieces that stand out and say something about the person wearing them. You can run out the door wearing just about anything and still look polished in the right ring or cuff.
A COLLABORATIVE SPIRIT
When I first set out to create Cast, I knew from the start that I wanted to enlist an amazing and varied roster of jewelry designers to help bring my vision to life. I searched far and wide to find talented women that had an aesthetic that resonated with mine: my love of mid-century modern design, my unapologetic obsession with pattern and color, and my endless embrace of geometric shapes and sculptural forms. Together, we set out to craft pieces of jewelry that were individual works of (wearable) art. Each design infused with its own narrative and playing an integral role in a connective story. What's brilliant about Cast is that each collection builds upon the other, playing distinct roles of their own yet still living harmoniously together…and in your jewelry box.
It's my hope that as you explore the collections we unveil, you feel as inspired as I did when I first discovered each artist that helped me create them. And because my desire to bring beautiful things to life runs deep, there will always be something new to discover from Cast.
More soon.
xo
–Rachel
My current faves