Introducing "Cast Icons," a new series where we discover the covetable jewelry collections of some of our favorite muses. These spirited, fashion-forward women each have a unique style sensibility and a shared enthusiasm for design, jewelry, and (of course) Cast.
"Jewelry is like French fries—one can never get enough!"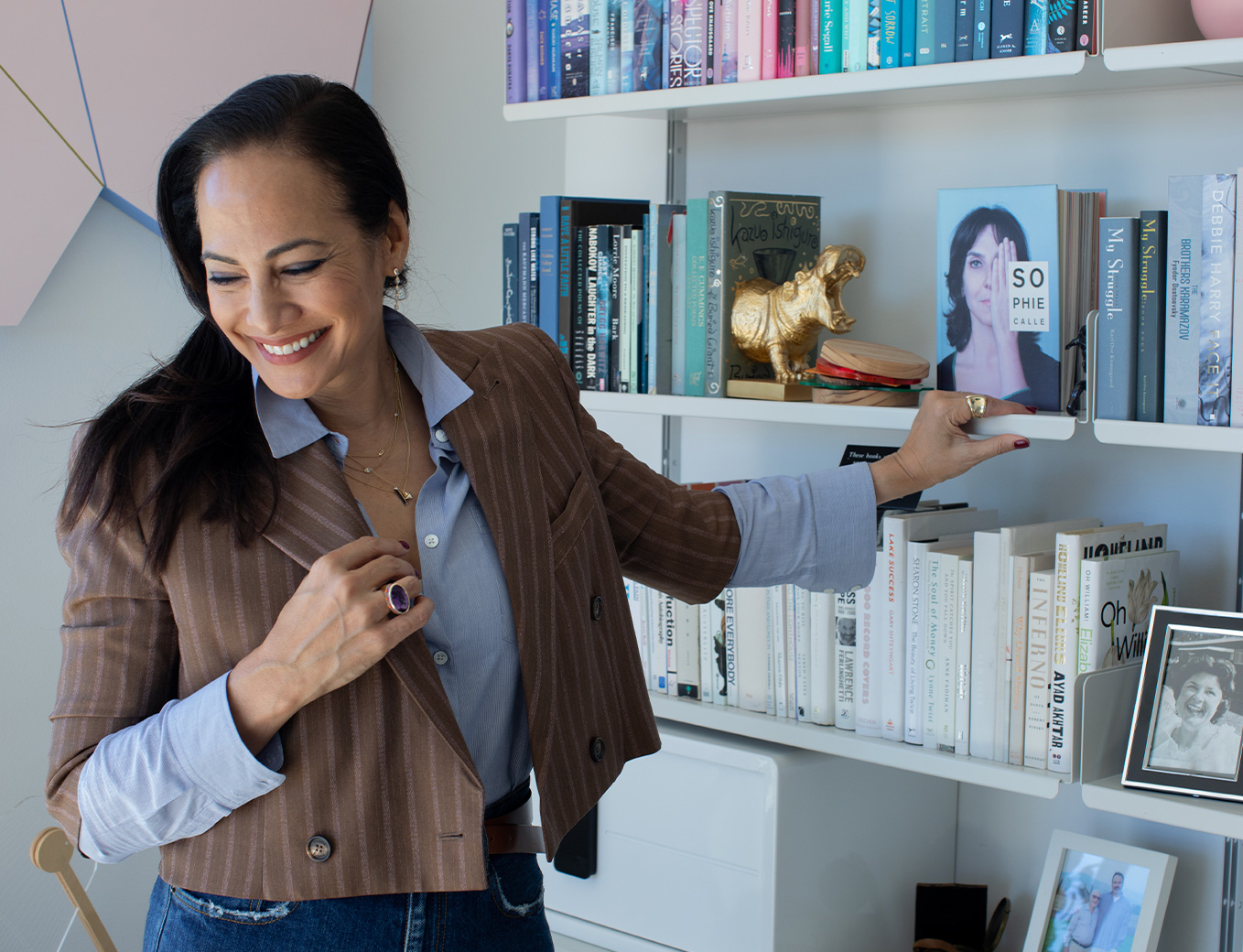 MEET GINA
An OG digital trailblazer and fashion aficionado, Gina Pell has made a career out of curating luxury products, creating compelling content, and building online sisterhoods. "Being around joyful, generous, open-minded and open-hearted people" is what makes her shine, she tells Cast.
In 2015, Gina Pell and Amy Parker, launched The What, an e-newsletter and community of 100,000 women, with "a mission to create smarter, less trend-obsessed, lifestyle content that appealed to our eclectic interests," says Gina. We love that she invented the term "perennial," described as "ever-blooming people, regardless of age or any other category that tries to define us." One of her most-beloved jewelry pieces is a gold script nameplate necklace that reads, "Perennial #1." With her impeccable taste, Gina was an easy choice as our first Cast Icon.

SIGNATURE STYLE
Gina sums up her unique brand of "mood dependent" style as The Duchess of Windsor-meets-Diana Vreeland. "I gravitate towards classic, but can't resist glamour with a strong point of view," she says. "I've never been a trend follower, because I care more about what looks best on me. For instance, you'll never catch me in midriff shirt or a nose ring, even though I love the way they suit other people."


IH HER JEWELRY CLOSET

"I bought my first jewelry box for five dollars at a dusty flea market when I was in fourth grade," says Gina. "It came with a sparkly Art Deco choker that I later learned was a rare collector's piece from the early 1920s!" Other treasured finds include a vintage green locket on a watch fob chain and a 32-carat cabochon emerald, platinum, and diamond Edwardian necklace, discovered in an antique jewelry store that was going out of business, so the price was right. Sadly, the necklace was stolen. But the locket and her "Perennial #1" necklace are daily wears, because they are both "imbued with meaning but also versatile enough to mix with other pieces," she says. "And I can never find enough chic stud earrings. Jewelry is like French fries--one can never get enough!"




CAST CRUSH
"I literally flipped for the 2-in-1 and 4-in-1 reversible Getaway rings!" says Gina of her first Cast pieces. "I love being able to get more looks out of everything I wear, and these rings double and quadruple my possibilities. I often wear the rings together or with other rings in my collections. Strangers always ask for a closer look and, when I turn over the stones, their eyes nearly pop out of their heads with glee! Not exaggerating." She fell for The Florence Mini Getaway Ring,"elegant but also edgy"(malachite and onyx to matte gold with pavé diamonds), since green is her favorite color. Now, she has her eye on the gold Milan Getaway Ring.


CORE COLLECTION STARTERS
Building blocks that Gina suggests as additions to every woman's jewelry box are the timeless, 14-karat gold link Baby Brazen necklace and bracelet as "great layering pieces that make anything paired with them look even better." Also the Brilliant Studs--"a fun, modern take on the classic diamond stud that also add a pop of color. I love the unexpected Cast twist of making precious pieces playful." Recently, Gina gifted her 14-year-old daughter Octavia the Brilliant Pendant Necklace, set with a diamond, because "I figured she could grow into it, well into her adult years (plus, I can borrow it!)."



Shop our best sellers and the pieces Gina recommends as a capsule starter collection, essential to every jewelry box. Dressed up or down, these go-with-everything jewelry must-haves will never lead you astray.