Color High
Dev Product 2
Sterling Silver, 9K Gold & Ceramic Earrings with Diamonds (0.1CTW)
Details
Testing product -- NOT FOR SALE, DO NOT DELETE
Care & storage
To keep your Cast jewelry looking its best for years to come, please follow our Product Care instructions for the metals, gemstones, and materials used in your piece.
Precious metals do wear over time. Cast engineers test all pieces to ensure durability. However, when a piece is constantly used, metal fatigue can occur.
Check your mechanisms regularly. Make sure that when the clasps and bales are engaged, there is a firm and reliable connection. If you notice fatigue, send the piece in for repair. Cast will build up the metal to ensure security.
Prongs also wear over time. Regularly check that your prongs are adequately securing diamonds and colored stones. If you notice vulnerability, send the piece in for repair. Cast will build up the metal and ensure the stones are set securely.
Materials
Ceramic
Highly durable ceramic finished to a high-shine in a custom X color
9K Gold Details
More durable than 18k gold, our Cast signature alloy is made with 100% recycled gold
Sterling Silver Structure
Our Cast signature alloy made with 100% recycled silver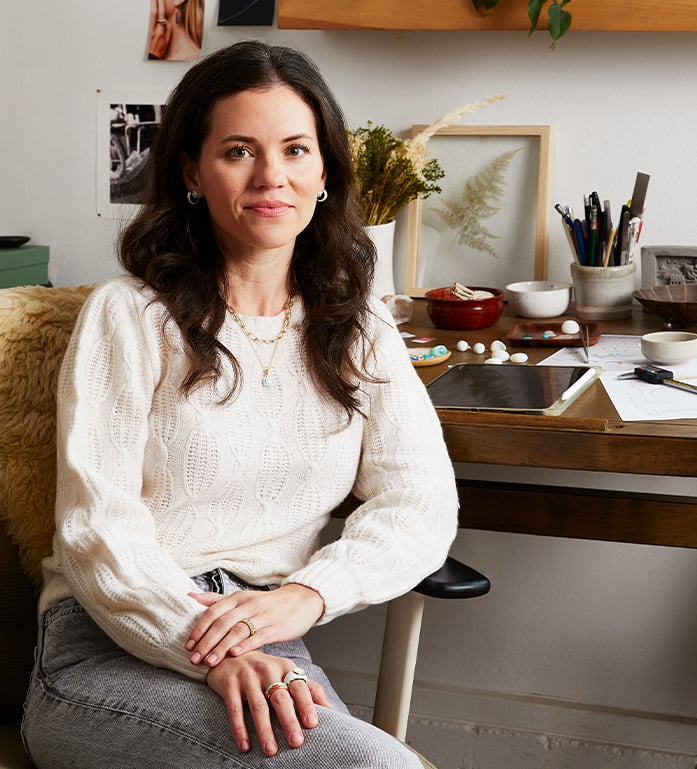 In the Studio With
Stacy Nolan
An LA designer with a passion for detail and commitment to transparency and ethical sourcing, Stacy Nolan's values and unmistakable style shine through in everything she creates. Timeless pieces that are as exciting today as they will be tomorrow, her designs are meant to be worn, loved, and treasured for generations.
#AllThatShines
EXPLORE THE WORLD OF CAST